Hot Wedding Trends For 2013
If you're planning to tie the knot in 2013, there are a number of key trends to be aware of, from wedding jewellery to that special dress; why not take a look at what's popular with other couples this season. From choosing your flowers to buying the most special dress of your life, there are trends and themes in 2013 which can help to make your wedding feel fresh and modern whilst keeping all of your individuality.
Diamond Engagement Rings - Always Hot
The most popular choice for engagement rings will always be diamonds, a classic that will never go out of fashion. Diamond engagement rings have always been a symbol of elegance and commitment, and in 2013 there is a definite trend towards setting this traditional stone with a coloured gem such as emeralds or sapphires. Famous couples such as William and Kate have popularised the combination of diamonds and sapphires, and many jewellers now report that this is the most popular design for 2012.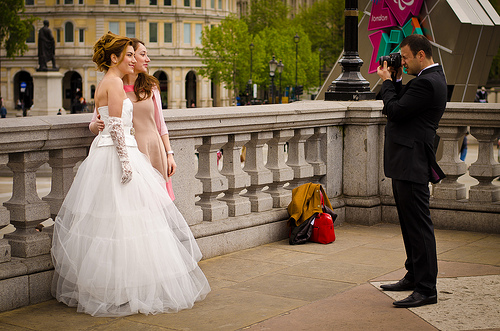 Diamond engagement rings needn't be dull however, with many jewellers now offering the option to design your own ring, have unusual settings or stone shapes, or combine the gem with other precious stones. If you're looking for inspiration then choosing an antique ring is a great option, and vintage weddings are a key trend for 2013 so choosing a ring to match your period theme is a clever way to incorporate the ring into your special day.
Wedding Flowers
The trend for vintage extends into wedding flowers, with demand for traditional bouquets of daisies and other British field flowers being incredibly popular. Choosing a seasonal and local flower is a great way to have an authentic vintage feel, and can also be a good way to save money as these blooms tend to be plentiful and relatively cheap. From daisies to poppies, the resurgence in demand for vintage flowers can be seen in many celebrity weddings, such as that of Natalie Portman. These flowers also make great head-dresses as alternatives to tiaras and other more 'bling' options.
Wedding Dress
Spring 2013 has a number of trends in wedding dresses, with one of the biggest being for coloured gowns. From mint green and lemon yellow for vintage brides, to the black and nude designs of Vera Wang; there's a coloured wedding dress to suit every bride and each wedding. If you're choosing to stick to traditional white or ivory then peplum is a huge fashion in the Spring 2013 collections. This is a great choice for women who are self-conscious about their hips, or would like to have an up to date look for their special day.
Lace remains popular, with pretty back designs and sexy sheer panels continuing to feature in the Spring 2013 season collections. Keyhole closings are popular on these dresses, offering a small flash of skin, whilst maintaining modesty through traditional lace and vintage detailing. These reworked lace dresses are perfect for brides who want to keep a classic look, but stay up to the minute at the same time.
Wedding Jewellery
For the wedding party there are a number of key looks to watch out for in 2013. Wedding jewellery has many vintage influences for the season, with brooches and pretty pins adding a flash of sparkle to the ensemble. From bling and sparkling crystals, to floral influenced pieces, there are trends in 2013 to suit every wedding style and theme. Tiaras tend to be smaller than in the past, with headbands and braids becoming more popular with bridal parties, alongside floral head-dresses.
Honeymoon Destinations
2013 is a tough economic time for many couples, and many newlyweds are choosing to stay closer to home for their honeymoon. There are a number of beautiful 'staycation' destinations, with popular choices including Ireland and Cornwall for couples who are trying to save money or are unable to fly due to other commitments.
For those venturing outside the UK, the 'new resorts' of Eastern Europe are a great way to enjoy culture and romance without breaking the bank. Prague and other cities in Poland and the Czech Republic offer great value for money, with cheap flights from many UK airports. These cities are some of the most romantic places on earth, and are a great place to take a city break following your big day.
Wedding Cake
Birds have been a big theme in 2013, and our feathered friends alongside other vintage touches are increasingly popular with couples. Mint green and lemon cakes, alongside cupcakes and buttercream icing are huge trends for the coming season. There is a distinct fashion for cakes which look more 'home made' than the huge creations of the past, with quirky ribbon and lace details becoming more popular. Individual cupcake tiers rather than one big cake are also key themes for the season, although be sure to ask for a 'cutting cake' if you want to have the tradition and pictures of the bride and groom cutting the cake for the first time.
Whichever trends you choose to incorporate in 2013, the one thing that is expressed through all of these new season influences is the desire for individuality; and your wedding should be a reflection of the happy couple. Whether you're a bling diva or a vintage belle, your wedding is a unique chance to share what you love with those you love. These trends should be used as a way to influence your ideas, but not override what you want to see – this is your special day after all.
Ross Davies writing for DeBretts Online Jewellery experts in diamond engagement rings for couples looking to tie the knot.
---
More to Read:
comments powered by

Disqus