Home > Blog > Skin and Body
How Best To Bronze: Spray Tans vs Natural Tans
Having a healthy looking tan has become an integral component in the beauty regime of men and women worldwide. Being a nation of sun worshippers, millions of us flock to holiday resorts all over the planet to ensure that we have that sun kissed look to show off around the office when we return. But in doing this, some of us are jeopordising our health by wearing little or no sunscreen and exposing ourselves to the sun in unhealthy doses. The number of reported cases of skin cancer has grown from 4 in every 100,000 people to a staggering 16 in every 100,000 in less than 35 years. Danish people are the most common sufferers of skin cancer in Europe, with over 26 reported cases in every 100,000 people. Many believe that this is due to an efficient reporting system, enabling doctors to catch the disease in its initial stages. But there are others who argue that it is due to a change in 'sun behaviour' by EU citizens.
In recent years, people have started to demand that they are well bronzed all year long rather than in just the summer months and regardless of the climate. 'Fake tan' has grown in popularity and can be procured in a number of forms, from sprays to gels, mousses to wipes. Some of us are taking it a step further by relying on 'sun beds' to top up our tan. But is this a healthy option? And what are the alternatives?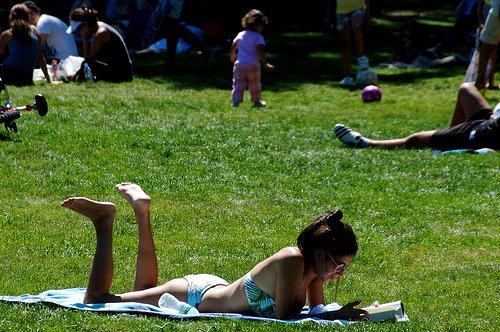 Sun beds emit ultra violet rays in high concentration to enable the skin to tan. Most tanning beds do this through the use of fluorescent tube lamps, that emit UV rays in a way that is designed to be akin to that which is experienced during exposure to sunlight. Some sun beds use 'quartz lamps' which are capable of emitting UV rays in a far higher concentration. These are less common however, as they are far more expensive.
Sun beds have received criticism as they substantially increase the risk of skin cancer to those that use them. This is particularly true of melanoma, which is the most dangerous type of skin cancer. Sun beds have also been known to cause such conditions as cataracts, suppression of the immune system and premature aging of the skin. Due to the potentially dangerous nature of sunbeds, stronger regulation of the sunbed industry has been advocated by many people, including high profile doctors and MPs.
These high profile criticisms of the tanning bed have led to the rise in popularity of another tanning solution, the spray tan.
Spray tans have been available for some time and are usually purchased for application within the home. A whole spray tan industry has sprung up, with 41% of women in the UK women using self tanning products according to St. Tropez, one of the market leaders in self tanning products.
Professional spray tans have exploded in popularity, with many of us heading to a high street spray tan salon on a Friday night in order to hit the town with a rich, dark complexion. Spray tans are advocated by many as a new healthy alternative to a natural tan as they eliminate the possibility of skin cancer whilst offering a convincing, tanned skin tone. Health campaigners have welcomed the emergence of the high street spray tan for this very reason.
The emergence of the fake tan industry has been cited by some as generating increased sales of high factor sun screen. People no longer go on holiday looking to come back with a tan - they want to be tanned when they arrive. For this reason many are utilising fake tanning products so that they have a healthy glow when their plane touches down. As they are already 'tanned', people are protecting themselves against the sun more comprehensively to avoid being burned by the sun's rays.
No matter how you wish to gain a tan, the important thing is to ensure that you are safe. There is nothing wrong with enjoying the sunshine. A natural tan can look great and sun exposure provides your body with vitamin D. But laying in the sun for extended periods of time, with little or no sunblock is extremely dangerous. A tan procured through the use of fake tanning products is now almost indistinguishable from a naturally obtained sun tan now that the quality of these products is as high as it has ever been. But you must always ensure that you check the ingredients in a product before application and only use products that have been extensively tested. If it is that you are tanning by natural means, try and avoid the sun between the hours of 12 and 3 pm, and ensure that you apply plenty of sun tan lotion.
Most importantly, be safe and happy bronzing!
Author Bio:
Richard Hughes is a content writer and link builder, currently employed by Online Ventures Group. He blogs for a number of sites, such as www.sienna-x.co.uk.
---
More to Read:
comments powered by

Disqus